Gift vouchers
If you'd like to buy someone a portrait as a gift but don't have access to their photos - or would just like to leave the choice of image to them - one of my gift vouchers may be the ideal solution.
These personalised presentation gift vouchers are available for single or double portraits.
You can buy a voucher (valid for 1 year) from me using the form below and pay by credit card online, by cheque or by bank transfer. I'll produce the personalised voucher and send it to you as soon as I receive the payment.
You can pay by credit card, bank transfer or (for UK customers) by cheque.
Prices
Single subject - head and shoulders: £185 (c. $300 / €220 )
Two subjects - head and shoulders: £235 (c. $385 / €280 )
This price includes the personalised presentation gift voucher, the pencil portrait and postage costs.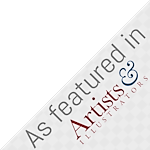 As featured in artists and illustrators magazine