Additional prints of your portrait
Each portrait is a unique hand-drawn piece of art drawn in graphite on acid-free 220gsm smooth art paper.
Thanks to improvements in technology, in addition to your original portrait, I'm pleased to be able to offer additional prints taken from a master scan of your portrait.
Ordering an extra print could mean that, whilst you get to keep the original work, you could give a high quality copy to others in your family - or even have a smaller copy in a frame on your desk.
Once the portrait has been scanned, a giclée print is made, with inks that are light-fast for 30 years, onto the same acid-free art paper as the original work.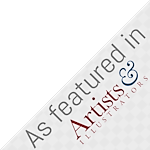 As featured in artists and illustrators magazine